Hammond Power Solutions (HPS), originalmente conocida como O.S. Hammond and Son, fue fundada en 1917 en Guelph, Ontario, por Oliver Hammond para construir diversas herramientas para la industria de la fundición. O.S. Hammond and Son comenzó a fabricar equipos de radio de tubo, cargadores de baterías y otros productos relacionados entre 1919 y 1927. Su filosofía de calidad y éxito era sencilla: " Fabricar los productos como si los fueras a utilizar tú mismo". Oliver falleció en 1925 y sus cuatro hijos mayores se hicieron cargo del negocio. Fue en 1927 cuando la empresa cambió su nombre a Hammond Manufacturing. Junto con el cambio de nombre vinieron otras transformaciones. En ese momento, la familia Hammond cambió su enfoque de radios a transformadores y choques de filtro para transmisores de radiodifusión y equipos de radio de CA.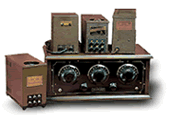 Con el inicio de la Segunda Guerra Mundial en 1939, Hammond comenzó a construir transformadores y reactores especializados para equipos de comunicación y radar militares. Casi de la noche a la mañana, la empresa pasó de tener menos de 50 empleados a más de 300 para satisfacer el aumento crítico de la demanda de transformadores.
En 2001, Hammond Manufacturing se convirtió oficialmente en dos empresas. Rob Hammond dirigió Hammond Manufacturing, que fabrica cajas eléctricas, embalajes electrónicos, barras de potencia y transformadores electrónicos. Bill Hammond rebautizó su división de transformadores con el nombre de Hammond Power Solutions, que fabrica transformadores personalizados, por catálogo y productos magnéticos relacionados. Esta reorganización ha permitido a ambas empresas perseguir sus objetivos estratégicos de forma independiente, proporcionando una sucesión ordenada a la siguiente generación de la familia Hammond y una oportunidad para crear un mayor valor empresarial y para los accionistas. Detrás del nombre Hammond hay una larga historia que abarca más de 90 años.


Haga clic AQUI para conocer la historia del transformador. (add hyperlink)
Hammond Museum of Radio

El Museo Hammond de la Radio (add hyperlink) se formó cuando el fundador del museo, Fred Hammond, comenzó a coleccionar equipos inalámbricos y de radio a la edad de 16 años. La primera exposición pública de su colección tuvo lugar en un pequeño edificio situado en la parte trasera de su casa de College Street en Guelph, Ontario, que originalmente albergaba su estación de radioaficionado.
En la actualidad, el Museo alberga cientos de receptores y transmisores que se remontan a la época de la chispa hasta el primer HRO500 de estado sólido de National. A lo largo de los años, el museo ha evolucionado hasta convertirse en uno de los principales museos de radiofonía de Norteamérica.

El Museo cuenta con el apoyo de Hammond Power Solutions Inc. y Hammond Manufacturing.