HPS offers an extensive line of standard products for a broad range of markets. HPS also designs and manufactures unique specialty and custom transformer products when transformer requirements go beyond the usual.
With growing urban infrastructure comes a greater demand for efficient, dependable power. Customers expect greater performance and longer life expectancies to power integrated power systems and telecommunications. HPS concentrates on providing customers with quality power as aging structures are updated to meet commercial and institutional requirements.

HPS builds custom transformers for alternative energy systems such as wind power and co-generation systems, and its dry-type transformers provide environmentally compatible solutions. As the demand increases for energy-efficient products, HPS continues to invest in R&D to meet the demands for this emerging market.

The demand for products to improve electrical power quality continues to grow. Nearly all important processes and systems in the world run on electricity. The quality of the electricity is important to maintain critical operations, protect expensive equipment and provide inexpensive power.
Marine duty applications range from small fishing boats, petroleum production platforms to the world's largest freight and passenger vessels. HPS has vast experience in supplying Marine Duty products for ABS, MIL specifications, DNV, Bureau Veritas, Lloyds of London and other regional requirements for both above and below deck applications.
Energy storage is an emerging market which is directly tied into several areas that are experiencing wide scale investments including renewable energy (solar, wind, etc.), electric vehicle charging, distributed power and power grid resiliency. HPS offers a broad range of distribution transformers that are commonly used in energy storage applications.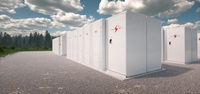 HPS supplies transformers to the underground mining substations of the Canadian potash industry.

HPS transformers are engineered for rugged environments where dust, moisture, and corrosive contaminants are present including petro-chemical, mining, oil pumping, and marine.
As our cities and industries grow, so does the dependence on the reliability of the electrical infrastructure. From commercial and institutional buildings to integrated electrical power systems and telecommunications such as internet hotels, there is an increasing demand for quality power. Through research and development of new products, HPS is an industry leader in technology advancements.

Transformers are increasingly being used to power electric vehicle charging stations. Several considerations need to be made when integrating transformers and E.V. chargers.