New Power Quality Product – HPS Centurion D1 dV/dT Filter
The new HPS Centurion D1 dV/dT filter is designed for use between variable frequency drives (VFD's) and motors when long lead lengths are used. It combines an inductor and parallel resistor network to mitigate both high frequency components and voltage spikes between the VFD and motor.
These filters provide protection for both the motor and cables that power it, and are is typically used when the cable length exceeds a value that can lead to high voltage levels caused by reflected wave phenomena. dV/dT filters provide protection to the motor by slowing down the rate of voltage increase and minimizes the damaging peak voltages that occur within the motor's windings and terminals.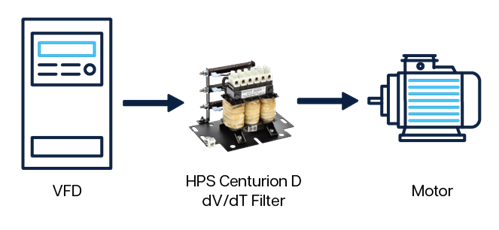 Typical examples of HPS Centurion D1 dV/dT filter applications include oil and gas pumps, wastewater treatment plants, HVAC systems, pulp and paper, and irrigation fields.